Vera Zaitseva: Paintings, Stage Design, Ceramics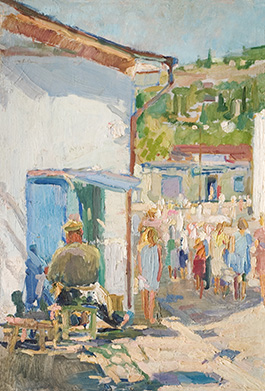 Paintings by Vera Zaitseva (1924-1983)
08.03.2008 — 10.04.2008
Preview — 08.03.2008
Vera Zaitseva was born in Moscow in 1924. After graduating from Repin&aposs Institute of Painting, Sculpture and Architecture of the Academy of Arts of the USSR in Leningrad she worked as the assistant of the legendary stage designer Isaac Rabinovich, and then she worked in the Moscow Soviet Army Theatre. She created decorations and costumes for the play of K. Capek The Macropulos Affair and the drama Forgotten Man by Nazim Hikmet. Both works were well commented on by the press and critics.
In 1956 Vera Zaitseva got married to Leonid Berlin (1925-2000), back then only at the start of his career, but by the end of his life was considered to be a masterful sculptor. In the 1950s her husband created a whole series of paintings, using the majolica technique. This inspired Zaitzeva to create her own ceramic series which comprised of platters and vases. Mutual influence had tremendous impact on the style of both artists.
Thanks to the creative approach to combining different styles and materials, most of Zaitseva&aposs decorations turn into collages and appreciate in value as objects of designer art. The feel for style and national colors, the precision of simple and obvious decisions - all these are qualities of her talent made themselves known in her original oils and graphics even more than in her sketches for stage design.
Side by side with her collages and graphic her oils seem very traditional and lack any sort of symbolism: Crimean landscapes flooded with the gold of the sun and dacha in Kratovo, the construction of hydroelectric stations and subways, village still-lives. Everything is charmingly simple and harmonic; it&aposs all but a play of color and shades. These works doesn&apost quote, but naturally continues the traditions of Russian impressionism.
Zaitseva worked a lot as a theatre designer in MKhAT (Moscow Art Academical Theatre), in Kazan Drama theatre (Tatarstan). She was invited to work in the most popular Moscow theatre of that time - Sovremennik (Moscow). In her studies for costumes and stage design Zaitseva experimented with different styles and materials such as textile collages, embroideries. Her studies are energetically applied and extraordinary individual. She taught stage design at the Art Studio of MKhAT (Moscow Art Academical Theatre).
The works of Vera Zaitseva can be found in The Pushkin state Museum of Fine Arts (Moscow), The A.A.Bakhrushin State Central Theatre Museum (Moscow), Museum of the Academy of Arts (St. Petersburg ), The Regional Art Museum in Donetzk, The Regional Art Gallery of Chelyabinsk, Russian Grand Drama Museum n.a. V. Kachalov (Kazan), private collections in Russia, France, Italy, and the USA.